Verdante (ヴェルダンテ, Verudante) is an earth mole and the familiar spirit of Guiche de Gramont.
Plot
Entrance Ceremony
Verdante is summoned by Guiche de Gramont during the Familiar Spirit Summoning Exam, befitting his magical affinity of earth. Initially, he is a bit disappointed with Verdante, but he became soon bedazzled by his beauty (like his) and has since doted upon him.[1]
The Plebeian Familiar Spirit
Guiche spends time with Montmorency and dotes upon Verdante, remarking that it truly is destined to be his familiar. Nonetheless, Montmorency asks Guiche to keep Verdante buried underground whenever he is with her.[2]
Fouquet Strikes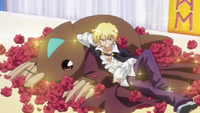 Guiche, as a form of "practice" for the upcoming
Familiar Exhibition
, merely dotes upon his mole familiar, assured that the
princess
will understand its elegance and grace. As the Familiar Exhibition commences, Verdante and Guiche charm and try to captivate the audience, but relatively to no avail due to the reactions of the crowd. As
Tabitha
and her familiar
Sylphid
are declared as winners for the event, Guiche becomes devastated that Verdante did not win.
[3]
References
↑ The Familiar of Zero Episode 1
↑ The Familiar of Zero Episode 2
↑ The Familiar of Zero Episode 5