Sylphid (シルフィード, Shirufīdo) is a wind rhyme dragon and the familiar spirit of Tabitha. When she shifts to human form, she assumes the identity of Ilococoo.
Plot
Entrance Ceremony
Sylphid is summoned by Tabitha during the Familiar Spirit Summoning Exam, befitting her magical affinity of wind.[1]
The Plebeian Familiar Spirit
At the height of the battle between Saito Hiraga and Guiche de Gramont, Tabitha decides to go home together with Sylphid.[2]
Void Day
When Kirche enlists the help of Tabitha to locate Louise and Saito, Sylphid flies them aboard her and looks for the two, being commanded to look for two people and not to eat them.[3]
Post-Void Day
Sylphid brings Tabitha, Kirche, and Louise to Count Mott's manor in an effort to save Saito from the nobleman.[4]
Fouquet Strikes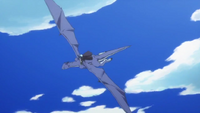 During the
Familiar Exhibition
, Sylphid and Tabitha perform, with the familiar displaying its prowess in
flying
. Eventually, Tabitha is declared winner and congratulated by the
Princess
. As a building collapses caused by
Fouquet
, Tabitha, riding Sylphid, surveys the area, but the thief escapes.
[5]
Academy Summer Vacation
During the summer holiday, Louise, Kirche, Tabitha, and Saito, along with Longuevuille, set out to capture Fouquet and retrieve the stolen Staff of Destruction. Later, in the middle of the encounter with the thief's golem, Tabitha calls on Sylphid to aid them in flight.[6]
References
Community content is available under
CC-BY-SA
unless otherwise noted.