Robin (ロビン) is a frog and the familiar of Montmorency de Montmorency.
Plot
Entrance Ceremony
Robin is summoned by Montmorency de Montmorency during the Familiar Spirit Summoning Exam, befitting her magical affinity of water. [2]
The Plebeian Familiar Spirit
Robin accompanies Montmorency while she is with Guiche de Gramont; she would later tell Guiche to keep his familiar buried when he is with her.[3]
Fouquet Strikes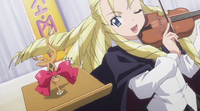 Montmorency is experimenting on various looks on Robin for the upcoming
Familiar Exhibition
, but has a hard time getting the right appearance for her frog familiar. Later, as the event commences, Robin and Montmorency perform to the crowd, with Robin appearing to dance and exhibit some moves while Montmorency plays the fiddle.
[4]
Academy Summer Vacation
After Louise de la Vallière mistakenly drinks a love potion made by Montmorency intended for Guiche, Montmorency sets out with the group to seek the Spirit of Water to undo the effects of the potion. During sunset at Lake Lagdorian, Robin is commanded by Montmorency to seek the Spirit of Water, where the frog bears a drop of blood from her master as a form of identification. Robin eventually succeeds after the Spirit of Water emerges to converse with them.[1]
References
↑ The Familiar of Zero Episode 1
↑ The Familiar of Zero Episode 2
↑ The Familiar of Zero Episode 5
Community content is available under
CC-BY-SA
unless otherwise noted.