Malicorne de Grandple

(マリコルヌ・ド・グランドプレー, Marikorunu do Gurandopurē)

Debut

Anime

The Familiar of Zero Episode 1

Voice Actor

Japanese

Hikaru Tokita

Personal Information

Gender

Male

Occupation

Student

Affiliation

Tristain

Magic

Affinity

Wind

Familiar Spirit

Cubasil
Malicorne de Grandple (マリコルヌ・ド・グランドプレー, Marikorunu do Gurandopurē) is a sophomore student of Tristain Academy of Magic and a classmate of Louise de la Vallière.
Plot
Entrance Ceremony
During a class under Professor Chevreuse, Malicorne is among the students who continuously protest against letting Louise perform a spell.
On the day of the familiar spirit summoning exam, Malicorne summons an owl named Cubasil. When Louise summons Saito Hiraga, Malicorne insults Louise for her expected failure.[1]
The Plebeian Familiar Spirit
Malicorne is among the students to witness a misunderstanding among Guiche de Gramont, Montmorency de Montmorency, and Katie about the former's apparent two-timing with the latter two. After he gets slapped by his girlfriend, Malicorne laughs at him for getting dumped. As Louise arrives, she orders Saito to yield to Guiche from the upcoming duel, but Saito refuses; instead, he asks Malicorne where Vestri Field is, to which Malicorne points him the direction to, anticipating the fight.[2]
Fouquet Strikes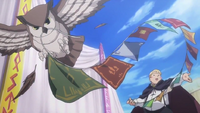 Malicorne practices Cubasil, his owl familiar, for the
Familiar Exhibition
, later doting upon it. Later,
Princess Henrietta
arrives at the Academy, welcomed by the students and staff alike.
As the Familiar Exhibition commences, Malicorne and Cubasil perform with the owl's prowess, entertaining the audience. After Fouquet escapes from her burglary, the students become wary of the incident as Osmond checks the Vault and sees a message from Fouquet, claiming her robbery.[3]
References
↑ The Familiar of Zero Episode 1
↑ The Familiar of Zero Episode 2
↑ The Familiar of Zero Episode 5