Levitation (レビテーション, Rebitēshon) is a basic spell that allows a mage to lift certain objects, persons, and even the self for various purposes according to will.
Variations
Edit
This spell allows any object to be lifted by a mage using his/her wand mostly for convenience purposes, such as getting a towel during a bath[1] or returning a book on a high shelf.[2]
Furthermore, levitation allows a mage to control a person by lifting him/her and/or controlling a target above the ground. This is performed for capturing purposes[1] or by helping a person land safely from a certain height.[3]
A mage may also levitate himself/herself to be transported to a certain height and/or breadth without further effort and time consumed.[4]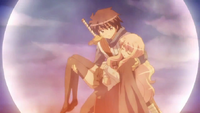 Normally, a mage can use levitation on one specific target only. However, levitation can be performed as a team spell, where at least two mages may combine efforts to levitate more than one specific target. For example,
Kirche
and
Tabitha
once performed levitation as a simultaneous feat to levitate
Saito
and
Louise
at the same time and seemingly seen in a near-transparent sphere.
[5]
References
Edit
↑ The Familiar of Zero Episode 4
↑ The Familiar of Zero Episode 6
↑ The Familiar of Zero Episode 9
↑ The Familiar of Zero Episode 11
Community content is available under
CC-BY-SA
unless otherwise noted.