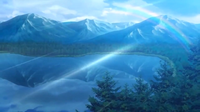 Lake Lagdorian (ラグドリアン湖, Ragudorian Mizūmi) is a lake in Gallia where the Spirit of Water resides, as well as other spirits.
Lake Lagdorian is a relevant location to the Montmorency family, a kin of noble water mages. In the past, Montmorency de Montmorency was once brought here by her father to create a contract with the Spirit of Water, similar to the rest of her family. Years later, when Louise de la Vallière unintentionally drinks a drink infused with a love potion concocted by Montmorency, a group consisting of Montmorency, Saito, Guiche, and a lovestruck Louise sets out to seek the Spirit of Water in exchange for the Spirit Tear to undo the effects of the potion. Despite the initial decline from the Spirit of Water, the group eventually acquires the Spirit Tear and uses it on Louise, later breaking free from the effects of the potion.[1]
Three years ago, Wales Tudor and Henrietta de Tristain shared their vow to love each other for eternity to the Spirit of Oath. Three years later, they would return here to reaffirm their love, albeit resulting in a failure, given that Wales had died and only been revived; Wales, who had been dispelled from the spell, makes Henrietta promise him to forget him and find another person she will love.[2]
References
Edit
↑ The Familiar of Zero Episode 9
↑ The Familiar of Zero: Knight of the Two Moons Episode 2
Community content is available under
CC-BY-SA
unless otherwise noted.