Jessica (ジェシカ, Jeshika) is a waitress at the Charming Fairy Inn, a pub in Tristania run by her father, Scarron.
Background
Jessica is the daughter of Scarron and Siesta's first cousin on her maternal side; hence, she is also descended from a Japanese pilot.
Appearance
Jessica is a fair maiden with dark green eyes and long black hair, a signature of her Japanese heritage. As a worker in the Charming Fairy Inn, she dresses in a yellow green maid dress with a low neckline that exposes her sizeable cleavage. She keeps her hair in a white bandanna with a red ribbon below, and she also wears a silver necklace.
Plot
Academy Summer Vacation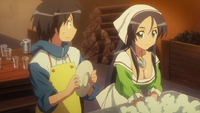 When
Louise de la Vallière
and
Saito Hiraga
arrive to work at the Charming Fairy Inn, Jessica welcomes them and becomes specially fond of Saito. She tells Saito that she is the daughter of Scarron, the owner of the pub, making him shocked and dropping a plate, shattering it. Due to various similar reasons, she hints that Saito is not used to the work and that he and Louise are not really siblings, which they introduced themselves as. Consequently, she makes advances towards Saito; Louise bursts the door open and catches them — he quickly acts out of the situation, only to earn a kick in the groin.
[1]
Trivia
Jessica has special skills in cooking and washing bottles.
References
↑ The Familiar of Zero Episode 7